The USATF Masters Twitter feed informs us that the 60-meter dash for men and women will be the exhibition race contested at USA indoor open nationals on Sunday, Feb. 22, 2019, at the new Ocean Breeze Athletic Complex in New York City. Cool.
Even cooler: The ages eligible for this event are 60-69. (Now if only I can compile home addresses for a few hundred guys and hire a discount knee-whacker, then I'm in!)
If I can't, then the likes of Damien Leake, Thomas Jones, Val Barnwell, Sky Webb and Michael Kish are the male favorites, while Amanda Scotti, Loretta Woodward, Leandra Funk and Jane Barnes are potentially the top women.
Too bad USATF Masters isn't likely to pay air fare to gather these folks. Some — like Damien and Amanda — would have to fly out from California. (And Damien's acting career is unpredictable as far as hiatus dates.)
In any case, folks who enter these races may have to choose between running in New York or the following week at USATF Masters Indoor Nationals at JDL Fast Track in Winston-Salem, North Carolina. And even more expensive — a trip across the pond to WMA indoor worlds in Torun, Poland. That's the last week of March.
So USATF masters exhibition coordinator Linda Carty may have a challenge recruiting 60-meter entrants for the NYC exhibition. The provisional qualifying marks haven't been set, but I suspect they'll be reasonable. (Except I'd need a 2-second discount.)
Thanks to social media maven Sandy Triolo and her team for the heads up on these races. They could be very exciting!
Here are the top American 60-meter racers from 2018. (Of course, lots of Left Coasters don't run indoors, but have comparable 100-meter times. Hope those marks are taken into consideration.)
With appreciation to mastersrankings.com:
M60 best Americans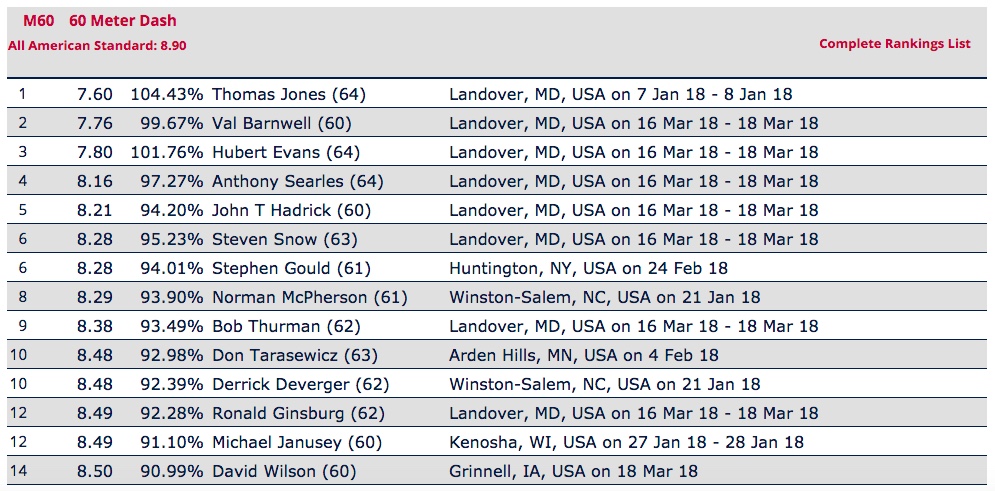 M65 best Americans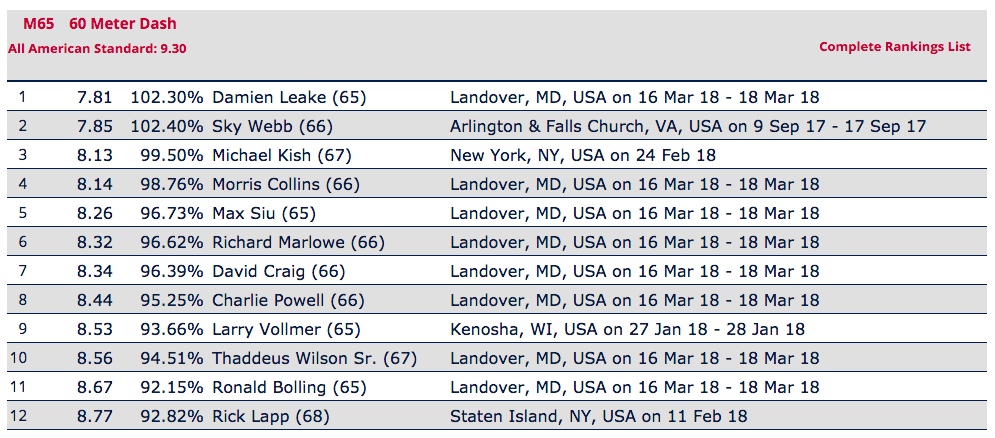 W60 best Americans

W65 best Americans

Contribute to support independent track and field journalism: