If track meets are three-ring circuses, what are masters nationals? A ballet buffet? After four sizzling days in The Inferno (what they call the Eastern Washington University football stadium), I'm overheated with memories. Some are personal — like getting season bests in the high jump and 200. Others were communal — as when 93-year-old George Roudebush helped an M80 team become the oldest to record a shuttle hurdle time. Witnesses to his gingerly slow-mo step-over of the 27-inch hurdles will never forget it.
Thankfully, on Day 2, I had finished my events and focused my Nikons on that event. The W40 team of Rachel Guest, Danelle Readinger, Lisa Edwards and Kimberly Touya cranked out a 52.18 American record in the 4×80 (despite live results site calling them a DNS.) And Danelle literally kicked up her heels in giddy celebration.
Then there was Iowa's Kay Glynn making height after height in the W65 pole vault, every time a surprise to herself. She wore flag-styled cutoff shorts and did a handstand on the runway. Incredible.
Finally, a touching moment at the 50th anniversary of the first masters nationals: Amanda Scotti congratulating her conqueror Becky Bowman in the W60 100. Becky looked stunned that she won. USATF's Ashley Mitchell, with help from the finish-line tent, summarized the records of the day in her nightly website recap. So you can review them here. And USATF marketing intern Alexia Beecher did nice Q&A "spotlights" with vaulter Gary Hunter, sprinter Charles Allie and thrower Neni Lewis.
Before and after my events, I took about 6,000 pictures. I uploaded faves to my Google Drive, which can be downloaded free in high-resolution glory. (Look for the three vertical dots at upper right for download option.)
M100 Orville Rogers was rightly a media focus, but I couldn't look away from the likes of Rachel Guest (incredible form in the jumps, hurdles and sprints) and Derek Pye (winning the M50 100 while clutching his injured hammie).
See Day 1 shots here. (And some in black-and-white.)
See Day 2 shuttle hurdles here.
See Day 3 highlights here.
See Day 4 amazements here.
(No charge, but I gratefully accept love offerings.)
My top images:
M90 George Roudebush in 4×80 hurdles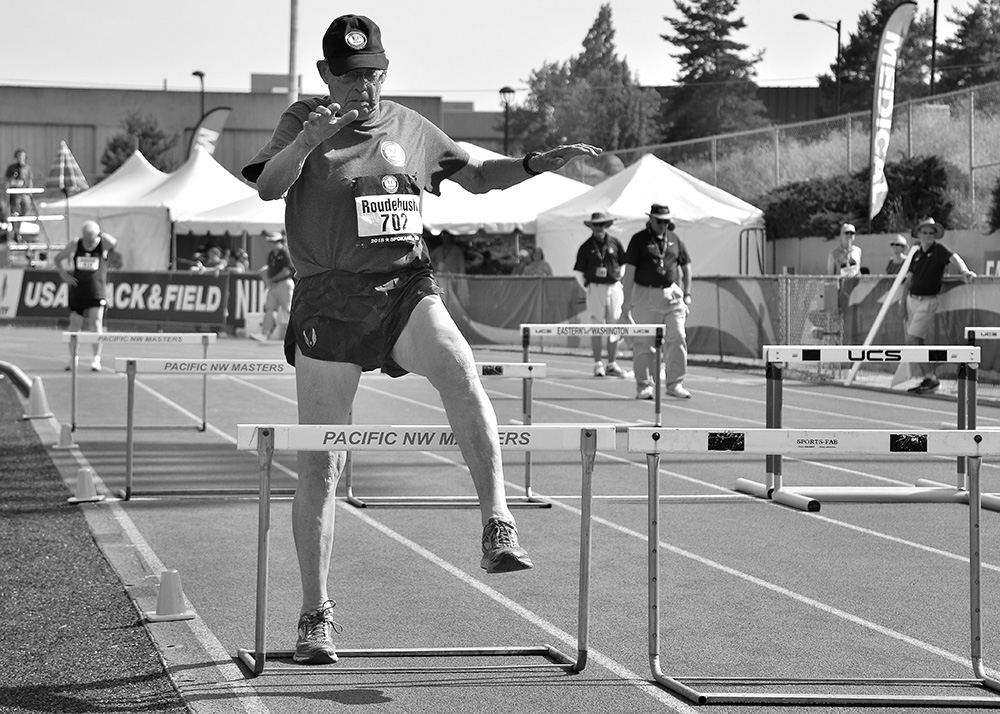 W40 shuttle hurdlers hug after setting American record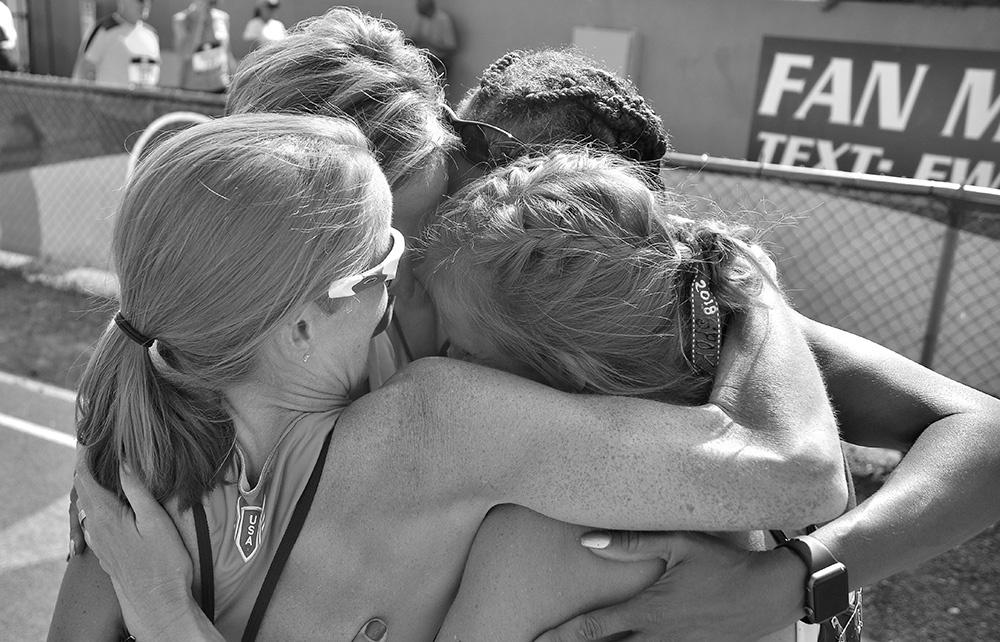 Danelle Readinger does her happy dance after AR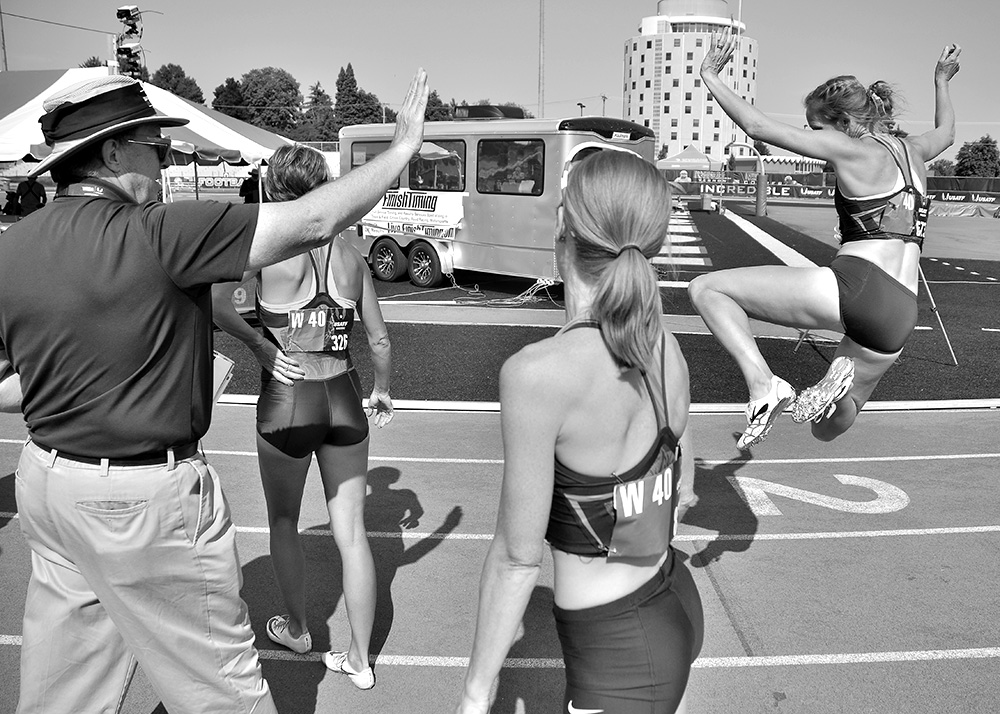 Signboard was prop for many record-setters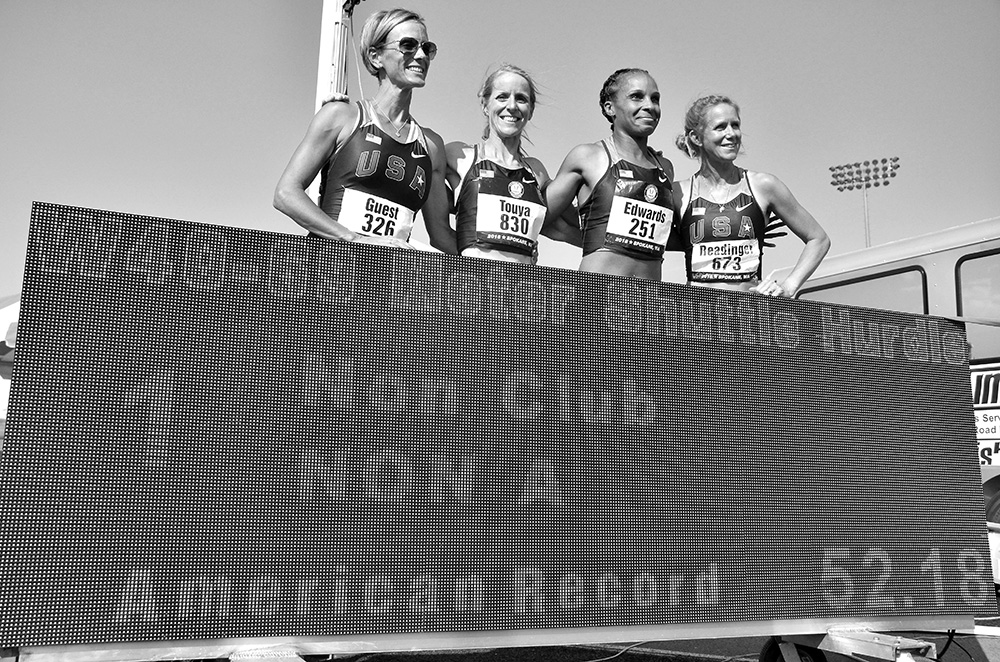 Younger sprinters put on synchro show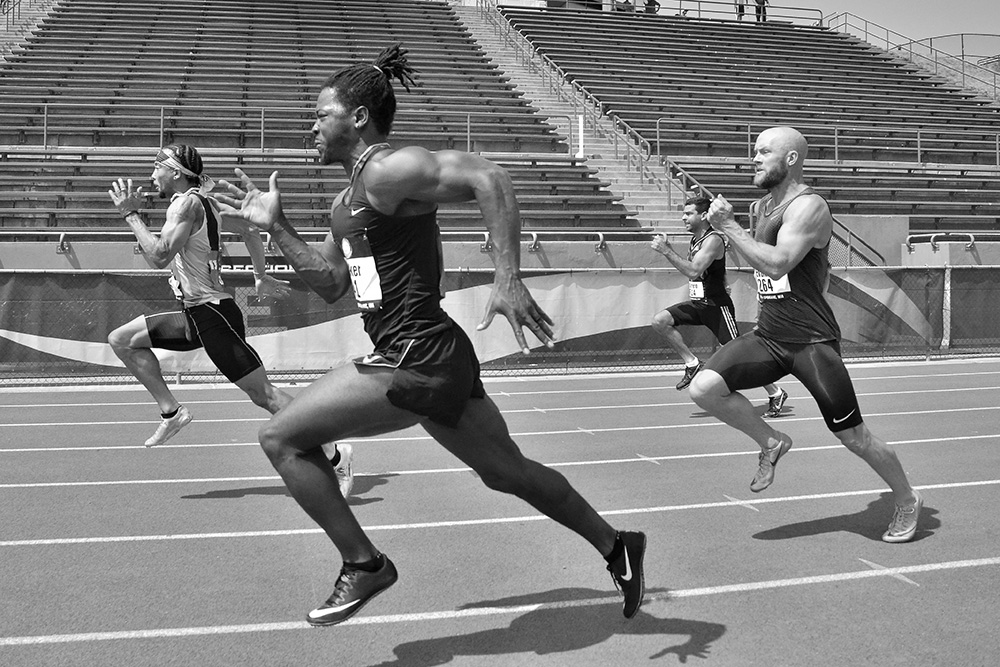 Derek Pye grabs his thigh near 100-meter finish line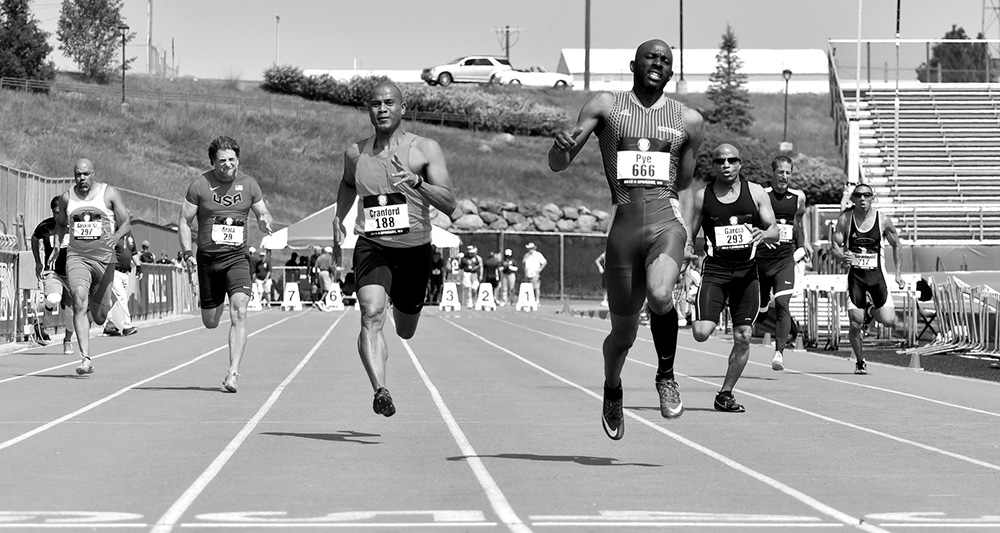 M70 Charles Allie won every sprint, but paid the price
Short Betty Stroh won W85 showdown with tall Thelma Wilson
Betty dabs in front of Rob Jerome's camera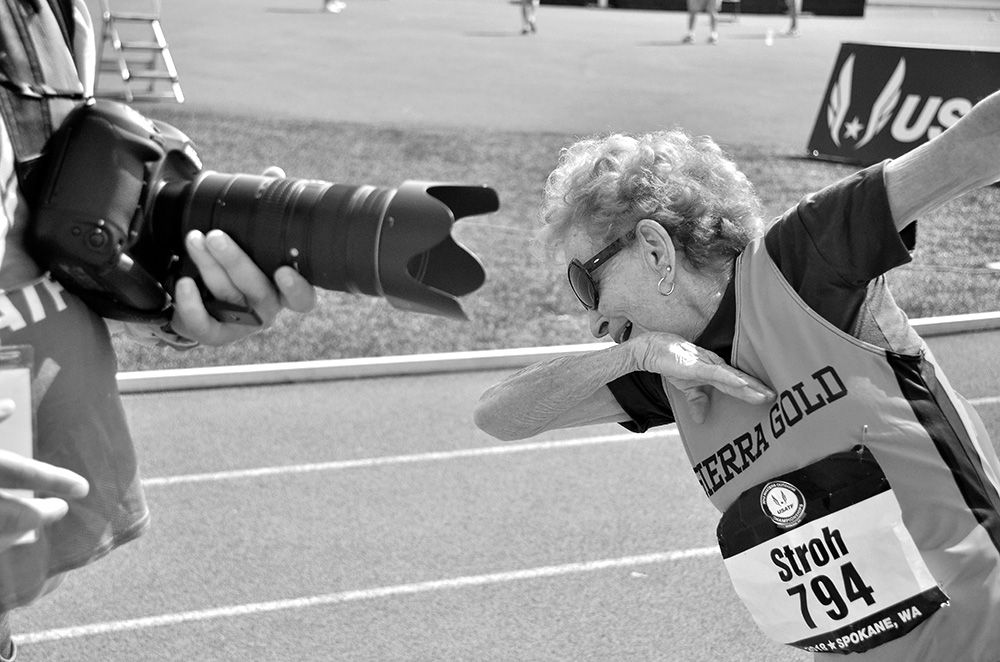 Betty and Thelma weave spell, fingers after 100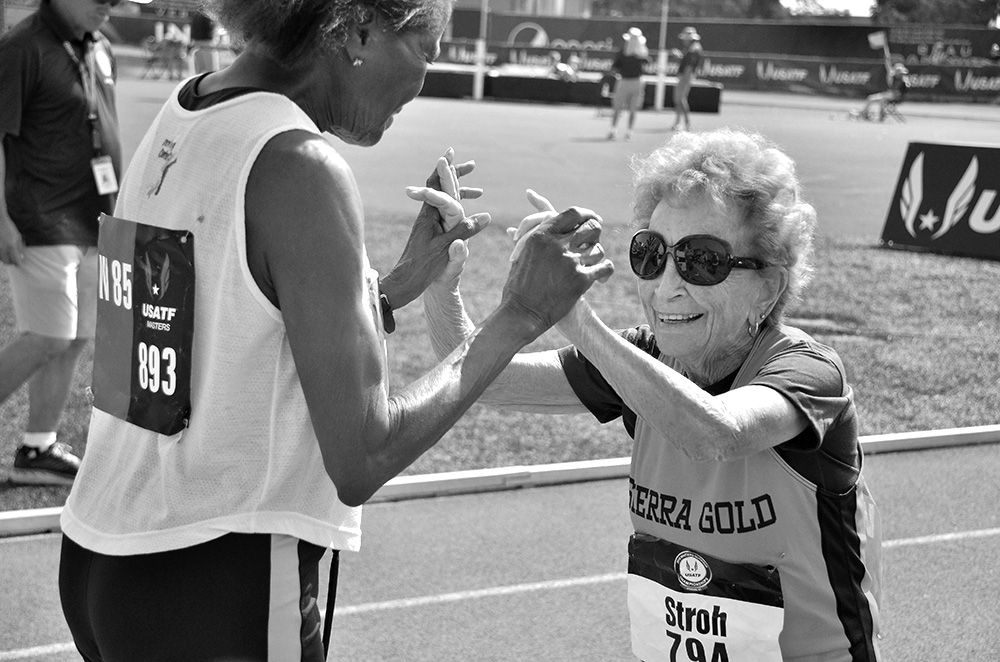 M45 Jeff Laynes gaps 100 field by gargantuan margin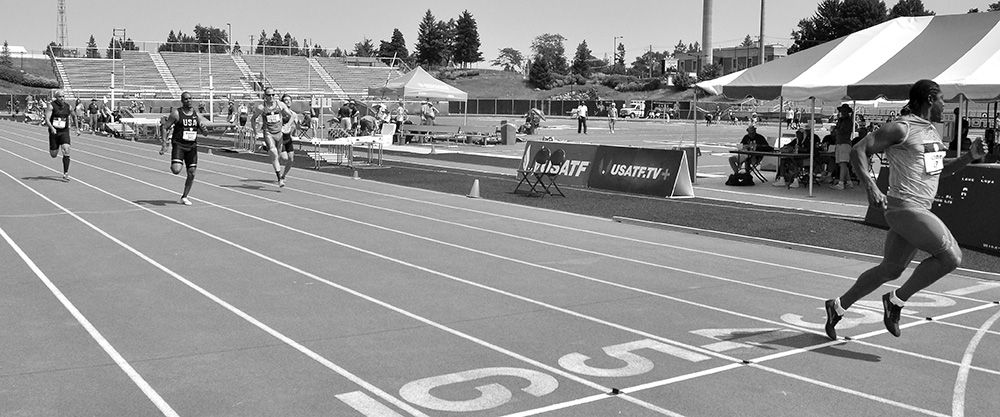 Becky Bowman can't believe she won the whole thing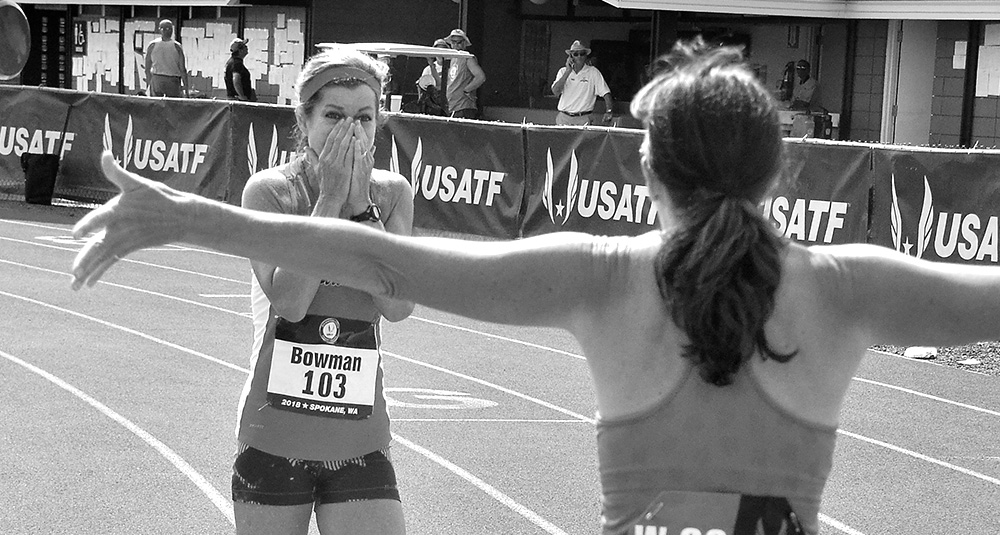 Amanda Scotti embraces Becky after W60 100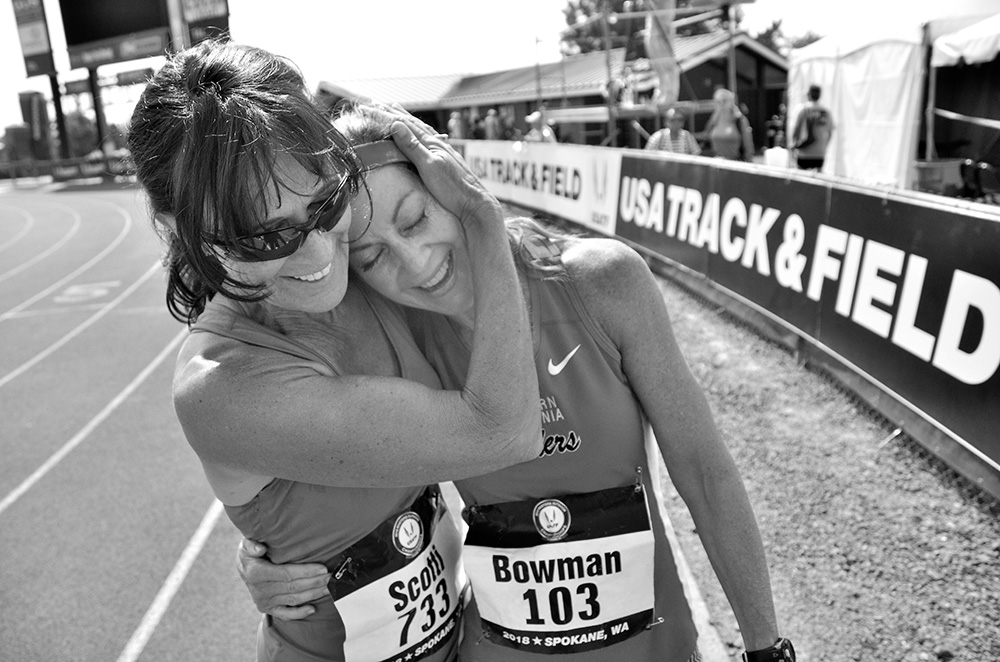 M60 Val Barnwell flashes smile at meet where he was drug-tested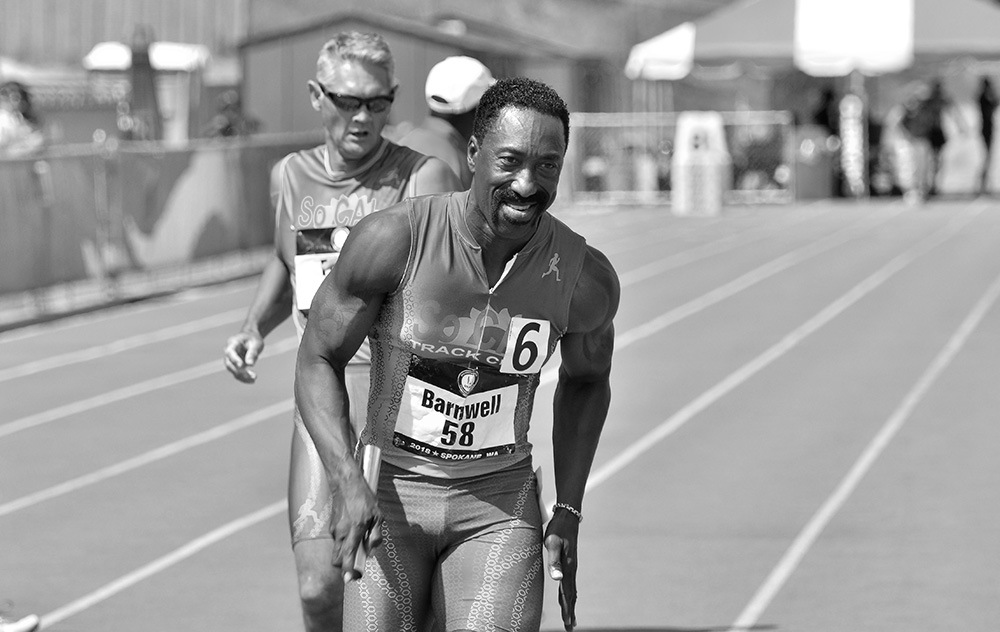 Rex Harvey and Marilyn Mitchell pitch in to haul hurdles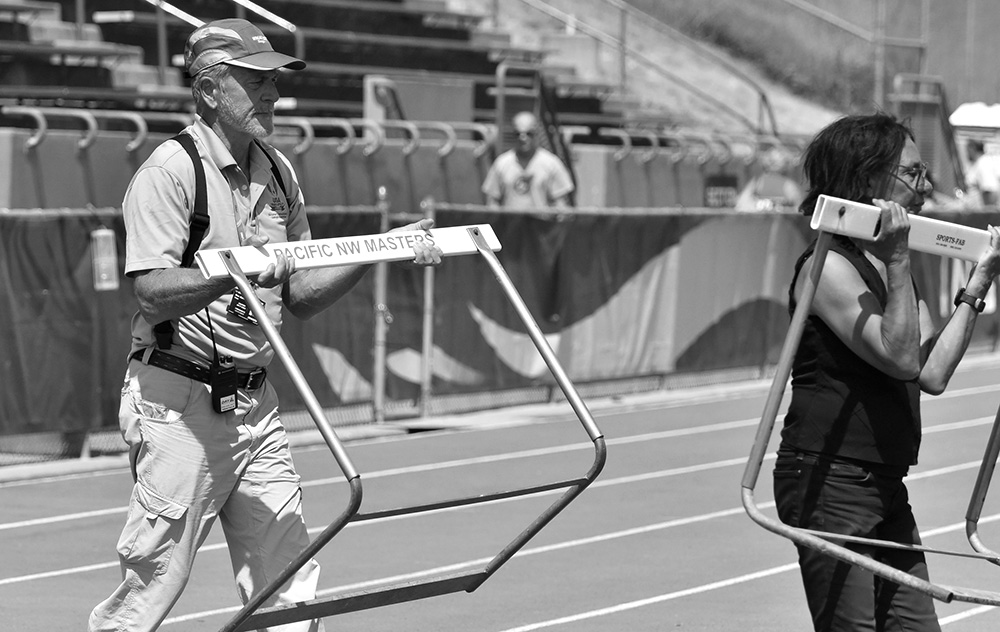 Kay Glynn was head under heels before a late-event jump
Kay strikes another just-cleared pose in W65 vault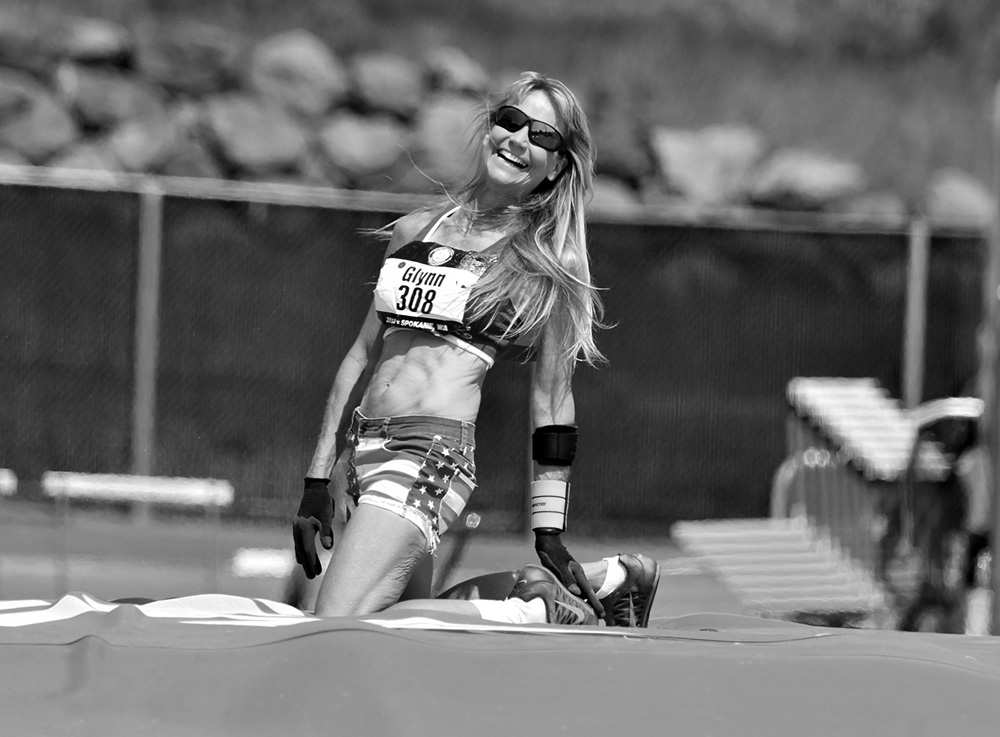 Contribute to support independent track and field journalism: